Spitz & Co had a busy and exciting 2015 – including performing at the extraordinary 4 day bicycle tour theatre festival in Limburg, Holland, and culminating in a brilliant three week Christmas run at Theatre Royal Plymouth's Drum Theatre …
This year we are thrilled to be taking part in the Brighton Fringe. All details can be found here
GLORIATOR – Brighton Fringe – Warren Studio 2
Meanwhile we've been rural touring around beautiful Gloucestershire, we actually saw a wild boar in the Forest of Dean! We also headed north to rural Nottinghamshire and Leicestershire – huge thanks to everyone for having us and making us feel so welcome.
In April we start touring "Glorilla" (or "Gloria In The Mist" as it has been re-named) starting with The Lyric Bridport on 8th April, including a run at the brilliant Bikeshed in Exeter, and ending with a week at Bristol's Wardrobe Theatre in June. All details on our show dates page – we very much hope you can come!
Donations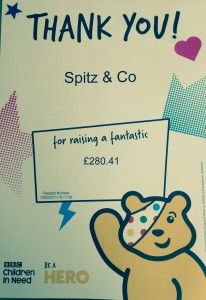 Earlier this year we opened up our "Gloriator" collecting tin and were delighted to discover £280.41 in change … which was donated to Children in Need.
In September 2016, there was £235.16 which was donated to Theodora Children's Charity which is dedicated to bringing smiles to children is hospitals, hospices and specialist care centres.
Each £10 funds a magical Giggle Doctor moment and this donation will bring smiles to 23 children who need it most.